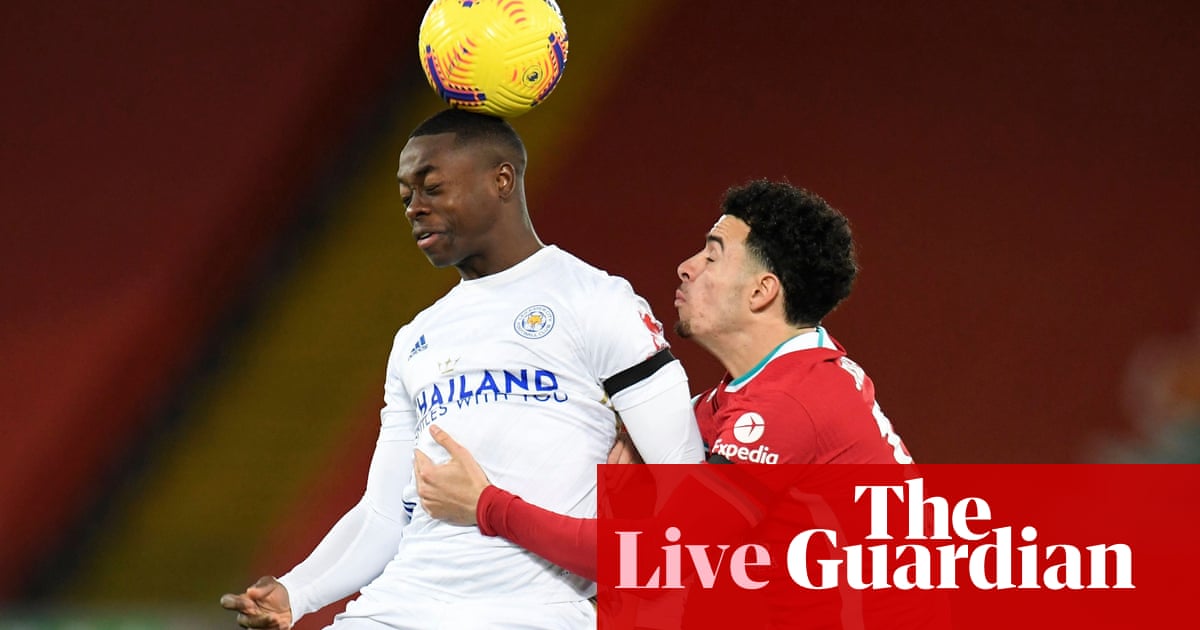 27 min Robertson's dangerous inswinging corner is headed just wide by Matip, under pressure from Fofana. The ball dipped awkwardly in front of Matip; I think it came off his shoulder in the end, but it still almost went in the net.
25 min "There's an interesting article to be written about all-time greats who had the misfortune to spend their career playing second fiddle to someone even greater," says James Evans. "Clemence is one, Aussie leg-spinner Stuart MacGill another. And of course there's Cantona playing in the shadow of Le God."
I had no idea that was what they called Brian McClair.
24 min: Just wide from Barnes! This is great stuff now. Barnes, in the inside-left channel, slides the ball down the line to Vardy in the area. He pulls a speculative low cross into the middle, where Barnes runs onto the ball and slices a first-time shot just wide of the far post. He probably should have scored.
22 min: Firmino has a goal disallowed! It was the right decision – he and Jota clattered Schmeichel as he collected a Robertson cross. That led to him dropping the ball and Firmino turning it over the line from 0.0001 yards.
Milner clipped in a corner from the right towards the six-yard line, where Evans was so busy wrestling with Mane that he took his eye off the ball for a crucial split-second. It hit him on the back of the head and flew past Schmeichel.
Jonny Evans gives Liverpool the lead!
20 min Leicester are struggling to get Vardy in the game. Mind you, that was the case after 20 minutes at the Etihad earlier in the season, and he ended up scoring a hat-trick.
19 min Fuchs is limping after being caught accidentally on the side of the leg by Jota. I think he'll be okay.
18 min Robertson volleys a loose ball well wide from 20 yards.
15 min Firmino is looking quite sharp, which will encourage Liverpool. They have been the better team in the first 15 minutes, though there hasn't been much in it.
13 min Jota receives Firmino's pass in the D, shifts the ball away from Fuchs and sweeps a fierce shot that is palmed away by the falling Schmeichel. It was a lovely strike but a bit too close to the keeper.
13 min Liverpool are having most of the ball, but Leicester are springing so quickly when they win it. This is already a fascinating game.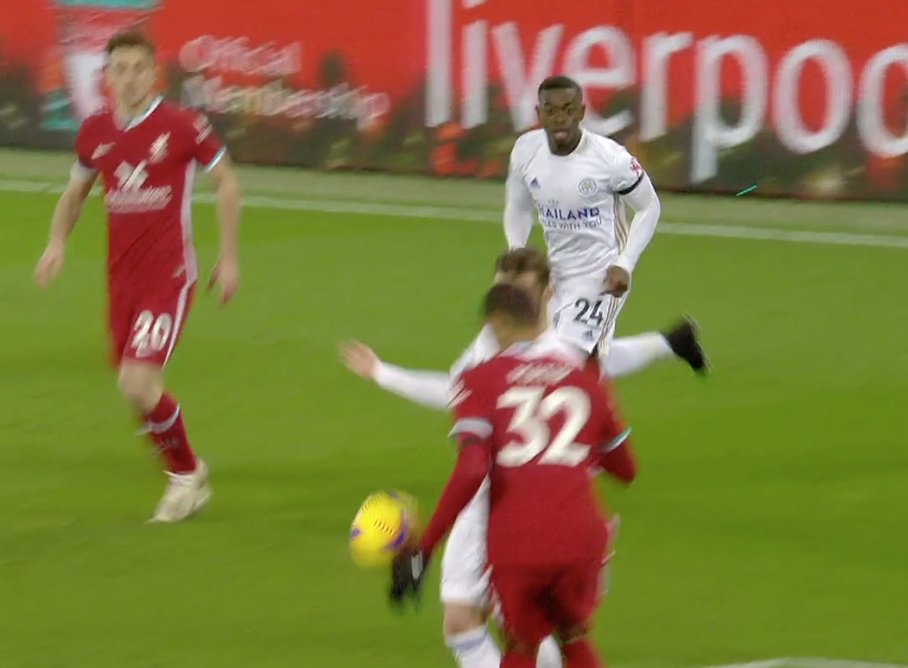 11 min "You are going to leave out Banks!!!???" says Francis Mead. "I think he was the best ever, worldwide. And personally, I always thought Clemence was a more reliable goalkeeper than Shilton."
He played his last game before I was born, hence the omission.
10 min The resulting corner breaks to Keita, whose long-range shot is comfortably saved by Schmeichel.
9 min: Good save from Schmeichel! Thta was excellent play from Liverpool. Keita angled a through apss to Jones on the right of the area. He took the ball in his stride and smashed a shot from a tight angle that was pushed round the post by Schmeichel.
7 min Under the current handball rules, Matip was really lucky to get away with that appeal earlier in the game. We should start calling it VARbitrary.
6 min Leicester have made a bright start, particularly down their left against the fill-in right-back Milner.
5 min "Hi Rob," says Paul Griffin. "In terms of Liverpool shotstoppers who could read the game, use their body to make saves, and cover angles, in tight one-on-ones, it seems churlish not to include Stephane Henchoz in the mix."
4 min Leicester appeal unsuccessfully for a penalty after the ball hits Matip on the arm in the penalty. VAR decides there's nothing to see here. Hmm, I would like to see that again. I thought Matip moved his arm slightly towards the ball.
2 min Milner's floated near-post corner is headed into the side netting by the stooping Mane. That was a clever effort that almost caught Schmeichel out.
2 min Jota and Mane combine well to tee up Keita, whose long-range shot deflects behind for the first corner.
2 min "Gary Naylor is right about Liverpool's last line of defence when Clemence was playing," says Steve Tayler. "I remember a game on MotD (I'm going to say against Leicester, but I'm probably making that bit up) when the ball fell to an opposing forward in the centre of the goal some 6-8 yards out. Clemence took a step forwards, shaping to lunge for the ball, and then stepped back just as the forward tried to chip him. The shot was a simple catch for a grinning goalie."
1 min Peep peep! Leicester, in their white away kit, kick off from left to right. Liverpool are in red.
There is a poignant minute's applause for the late Ray Clemence. Before the game, Alisson laid Clemence's iconic green shirt behind one of the goals.
Hang on, Naylor meant the best five full stop! "At risk of going a bit David Brent, of those I've seen, in alphabetical order, I'd go: Buffon, Clemence, Schmeichel, Shilton, Southall."
I think it's pushing it to include him in the best five overall, but you saw more of him than I did.
"Who are the five England goalkeepers?" asks Elliot Wilson. "I think of Shilts, Clemence, Seaman, Banks, and then maybe Del Boy saying 'Bonetti, Bonetti', but is he the fifth you had in mind?"
In Naylor's lifetime, that'd be my five. In my lifetime, I'd replace Banks and Bonetti with Tim Flowers and lord knows, maybe Nigel Martyn.
Here come the players. It's a cloudy evening at Anfield, with scattered showers that will ease going overnight. A dry night with clear spells for many, as cloud clears in the early hours. Feeling chilly. Minimum temperature 2 °C.
"Hi Rob," says Gary Naylor. "Whilst it is right and proper that Ray Clemence has been celebrated as a universally liked and admired man, we should not lose sight of what a fearsome foe he was on the pitch. Players would get past Tommy Smith, Jimmy Case or Graeme Souness only to face down Clemence in a one-on-one game of chicken in which you were absolutely certain that he would not blink first.
"Just because his career coincided with that of Peter Shilton, we should not be in any doubt that he was an all-time great goalkeeper, top five in my lifetime for sure."
Top five England goalkeepers? Yeah, I'd agree with that. He's probably slightly underrated because of Shilton.
"Hello Rob," says Geoff Wignall. "So, do you think Liverpool's heavy-mettle football will be up to this serious test of their metal?"
My point exactly.
It finished Leeds 0-0 Arsenal at Elland Road
Arsenal's Nicolas Pépé sees red before Leeds hit woodwork three times in draw
"Ahem," says Marie Meyer. "Sending out JM7 is never an 'enforced change'. It is a splendid, delightful, evergreen option."
"I haven't been following football properly for a while," says Wendell D'souza, "but I don't think Virgil played vs City."
My point exactly.
"A lot of midfielders in that Liverpool XI," weeps Matt Dony. "Maybe Klopp is trying to cheer up Guardiola after yesterday's debacle? (Using 'humour' to try and deflect from the fact that I am terrified about tonight's match.)"
Liverpool make four enforced changes from the team that drew 1-1 at Manchester City before the international break: James Milner, Fabinho, Naby Keita and Curtis Jones replace Trent, Joe, Jordan and Mo.
Leicester make two changes from their 1-0 win over Wolves: Marc Albrighton and Harvey Barnes come in for Luke Thomas and Dennis Praet.
Liverpool (4-3-3) Alisson; Milner, Matip, Fabinho, Robertson; Jones, Wijnaldum, Keita; Jota, Firmino, Mane.
Substitutes: Adrian, Minamino, Tsimikas, Origi, Phillips, Clarkson, N Williams.
Leicester (3-4-2-1) Schmeichel; Fofana, Evans, Fuchs; Albrighton, Tielemans, Mendy, Justin; Maddison, Barnes; Vardy.
Substitutes: Ward, Morgan, Thomas, Under, Choudhury, Praet, Iheanacho.
Referee Chris Kavanagh.
Pre-match reading
Brendan Rogers' Anfield past brings power of ignition to latest reunion | Barney Ronay
Leicester's Barnes learned plenty from Liverpool's bumper Boxing Day
Jürgen Klopp wary of threat posed by Jamie Vardy's 'risks and gambles'
When Leicester ended Liverpool's unbeaten run – then were relegated
Hello. It was in April 2019, after a vital win at Southampton, that Jurgen Klopp christened his team "mentality monsters". (He used a third word, but this is a family newspaper.) Klopp's Liverpool have so many qualities, but their mental strength is surely the greatest. They have needed plenty of it this season. As well as coming from behind to win three of their first eight league games, Liverpool have had to deal with a surreal 7-2 defeat and an increasingly grotesque injury list.
Now they have another serious test of their metal: Leicester, who on current form are the most dangerous visitors in the Premier League. They savaged Manchester City and Leeds on the counter-attack and won at Arsenal and West Brom as well. Leicester have also had plenty of injuries, though you wouldn't know it from the smart, unobtrusive way Brendan Rodgers has filled the various gaps in his first XI.
In short, this is a rare old Sunday night humdinger. If Jamie Vardy is at his streetwise best, Leicester have a realistic chance of ending Liverpool's long unbeaten run at Anfield – and blowing the title race wide open. A win tonight would put Leicester top of the league again. Liverpool can't go top, unless they win 10-0, but they can set a new club record of 64 top-flight games at Anfield without defeat.
They'll want a lot more than a record-breaking draw, though. The bigger the test, the greater the statement if you ace it. Liverpool have the chance to remind everyone that they are still the best team in England. And the scariest monsters.
Kick off 7.15pm.
Fakiera finished with a flourish to claim a last-gasp victory in the BetVictor Casino R…